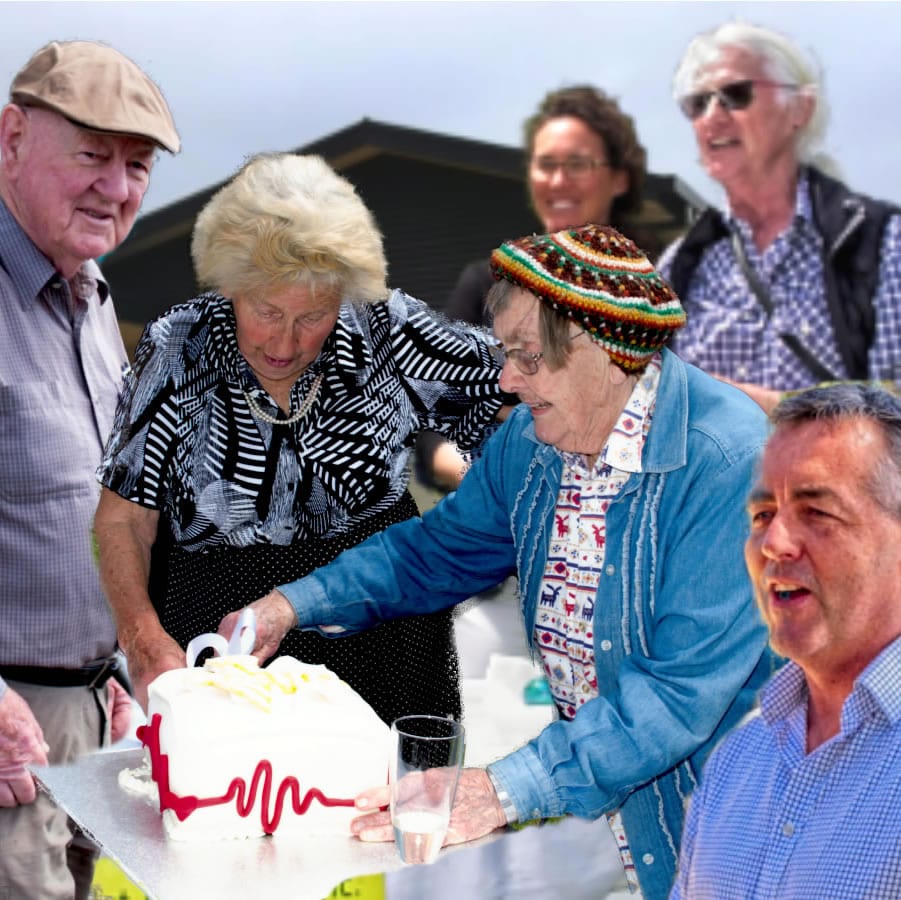 11 June 2019: Following a recent review, the Committee of Mallacoota Inlet Aged Care (MIAC) is delighted to announce that the lease for its property that houses the Mallacoota Medical Centre (MMC) had been extended for another three years based on the roll over provisions in the contract.
"The roll-over of the lease offers the community a fair and guaranteed return", said MIAC's President Etienne van der Merwe. "It also supports medical professionals in the Mallacoota district, which benefits Aged Care as well as the wider community."
He revealed a couple of MIAC members had expressed uncertainties concerning the nature and value of the lease over MIAC's property where the new medical centre building, the core of Croajingalong Lodge Residential Aged Care, is being built.
"There was uninformed comment," he said. "With the state of the present commercial property in Mallacoota, our charity's investment is cash flow positive through its lease for buildings zoned for the growth in medical requirements and aged care support."
Firstly, the new Medical Centre was required to be built to BAL 40 fire safety standards[i], which increases building costs," he said.
Secondly, the property owned by MIAC is a freehold with a number of older buildings on it, including the old medical centre and residential quarters. The entire property including the premises is under a three-year lease to the Mallacoota Medical Centre (MMC), a continuation of the previous lease held by Mallacoota Medical Centre since the date of MIAC's purchase in 2016.
Thirdly, MIAC received a written assurance that any additional income generated from these older buildings, will be passed to MIAC, subject to appropriate agreement as to meeting the necessary running costs. This is consistent with the joint MIAC-MMC-CHIRF agreement lodged with the Commonwealth for the purposes of the grant to build the new GP medical centre.
Fourth, the jointly funded CHIRF-MIAC new building is covered by a separate agreement with the Government to ensure the lease of the property aligns with its grant – i.e. a medical centre.
Etienne said options for temporary use of the other non-BAL 40 buildings, are being explored. To dispel another rumour – a needle exchange is not one of them, he said.
"Our advice is that it would be cheaper to replace those older buildings with a new purpose-built nursing facility in keeping with the MIAC goals of Stage 2 Croajingalong Lodge."
In 2017, MIAC formed a consortium with another charity CHIRF, to build the New Medical centre planned as Stage One, the core of Croajingalong Lodge for residential aged care. In Stage Two, Palliative care and Respite residential beds would then be added to the core. Stage Three will be an Aged Care village.
NEW HEALTH AND REMOTE AGED CARE ALLIANCE FOR MALLACOOTA
Mallacoota stands out from other Victorian regions for its dearth of residential aged care facilities. The MIAC-CHIRF consortium's strategy is to bid for a substantial Government grant to assure an Aged Care facility is built consistent with MIAC's goals. A well-supported community with access to the full range of health services, from cradle to grave, is imperative when residing in such a remote environment.
However Mallacoota is too small to sustain disparate initiatives, anymore, he said. The time was ripe for a more coordinated approach.
He recalled some 30 years ago when the Mallacoota Bush Nurse Committee of Management abandoned the Senior Citizen's MIVA MIVA Aged care Hostel Project. Despite promising otherwise, it kept the money raised to build it[ii]. .
"We can learn from history," Mr. Van de Merwe said. "The time is ripe to strengthen our mutual initiatives by forging a new alliance based on the present consortium that established this new centre," he said. The two charities will retain their autonomy, and work on Stage 2 of Croajingalong Lodge.
It is envisaged that Stage 2, a medium-high care facility will cost around $10 million and be built on the site of the old Mallacoota Medical Centre buildings. MIAC research shows that due to lack of aged and palliative care, 164 people have left Mallacoota since 2001. Stage 2 will help remedy this.
"Plans are in place for the next stages of the project and we are now positioning ourselves and developing strategies that can take advantage of funding opportunities that will arise," CHIRF President Robin Bryant said.
"With the continued support of the community and local politicians, we will enable people to stay in the place they love rather than being forced to leave due to lack of services".

---
[i] A BAL (bushfire attack level) is the basis for establishing the requirements for construction (under the Australian Standard AS 3959-2009 Construction of Buildings in Bushfire Prone Areas), to improve protection of building elements from bushfire attack. BAL 40 requires constructions that can cope with increasing levels of ember attack and burning debris ignited by windborne embers, together with increasing heat flux and with the increased likelihood of exposure to flames. (BAL 40 Construction Requirements).
[ii] Linda Bruce & John Hilvert "WHITHER MIVA-MIVA? STAGE 2: BUSH NURSING CENTRE ABANDONS AGED-CARE HOSTEL PROJECT" Mallacoota Mouth # 1672, 16 Nov 2017, pp24-26 https://www.chirf.org.au/dev/wp-content/uploads/2018/04/MIVA-MIVA2.pdf