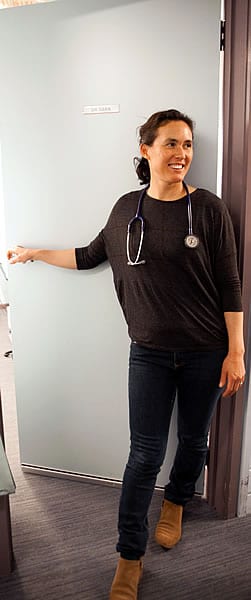 What is CHIRF ?
CHIRF (Mallacoota Community Health, Infrastructure and Resilience Fund) Inc. is a registered charity which was created in 2016 to provide support across a wide range of activities in the Mallacoota community. Find Doctors, fill the gaps in health care, build a new medical centre and provision it with modern equipment
Right now, our small but resilient town is still trying to recover from a major bush fires that almost wiped us out on Dec 31 2019. The bush fire trauma has put community health under great risk mentally and physically.
Our doctors, mental health staff are working round the clock to assist where we can. But we'll need more donations to assist maintain our effort.
CHIRF provides the financial support to allow the medical practice to provide services to the community that a private practice cannot fund. We survive on donations, philanthropy and a small grant for GPHN. Our mental health people, 2 Psychologists and a Mental Health/Social Worker are totally funded by philanthropy (FRRR) and donations.
Donate Now please via this PayPal link.
CHIRF is a fully volunteer organisation with very low overheads all on our Board have a absolute commitment to the community and to enhancing health care and community resilience. We support other bodies in the community with similar purposes by auspicing their grants when they need the support of a DGR Charity.
We are supported by the "pro bono" services of SBM Stavros Accounting and operate XERO as our accounting software. With the Bendigo Banks strong support we hold a number of accounts that we target to specific purposes.
Individual accounts where we auspice others grants, a general purpose medical account for our daily operation of purchasing equipment etc and targeted accounts for the grants we have received.
CHIRF currently employs 11 staff working through and in support of the medical centre, operating under the strict protocols and requirements of a fully accredited AGPAL Medical Centre.
History
CHIRF was launched following a community meeting called by Mallacoota's then sole GP in April 2016,
Dr Sara Renwick-Lau who outlined the challenges faced by a small medical practice in a very remote community. Following that meeting two key activities were activated; the first, a Doctor Search committee was formed with the goal of increasing the number of doctors in the community; and secondly, a fund- raising committee was formed and tasked with improving the equipment and facilities in the medical centre.
The Medical Equipment and Facilities Fund has so far received money from donations, from a Commonwealth grant under the Rural GP Grant Program, and from fund raising activities in the form of raffles and a charity auction.
It is important to note that equipment purchased by CHIRF remains the property of the community and is used by the medical practice to improve medical outcomes in the community. A huge benefit of buying medical equipment is that it reduces the need for patients to travel to Merimbula, Bega, Bairnsdale or Orbost for investigation and treatment of some medical conditions.
What have we bought?
We joined with MIAC (Mallacoota Inlet Aged Care Inc.) in co-funding a generator for the Medical Centre in 2016. This means that in the event of power failure, the clinic was be able to be kept open and unstable and expensive medicines can be kept refrigerated instead of having to be discarded. The generator, as with all our purchases, remains a community asset.
We have been able to invest in an ultrasound imaging machine. That we have been able to do so is due to the amazing work of some of our supporters. Please see the "Acknowledgements" page for details of their wonderful work.
We have spent money on bringing Mallacoota 'brand recognition' in medical circles by attending three conferences. Two ACCRM (Australian College of Rural and Remote Medicine) conferences and one RACGP (Royal Australian College of General Practitioners) conference. The organisers of those conferences have been incredibly generous and supportive of our cause. (Again, please see our 'Acknowledgements" page.) Apparently, we are the first town ever to try to recruit doctors by broadcasting our many positives

to the delegates.
CHIRF's Doctor Search team (individuals are listed on the acknowledgements page) can also claim success in its quest. Mallacoota found a Doctor and from time to time we, have a registrar training with us. Currently we have one who is with us until February 2022.
CHIRF expects to be integral to future developments of medical care in Mallacoota.
What else has CHIRF achieved?
First and foremost, the new doctors!
Equal first, early in 2018 CHIRF received a grant of $300,000 from the Federal Government, towards the building of a new medical centre on the site of the existing medical practice. Our sister charity MIAC already owns the land. The building of a new medical centre to replace the current ageing buildings will ultimately pave the way for a residential aged care facility as well. CHIRF has been partnered by MIAC who are contributing $300,000 to the building of which $100,000 is a mortgage from the Bendigo Community Bank.
As a result of the funding, CHIRF undertook the management of the build of the project of the new medical centre. A medical building specialist development firm, Group HIS/ (now HCPA Healthcare Projects Australia, undertook the design and construction of the facility. It is was completed in June 2019. Initial planning was delayed when a very gratefully received extra donation became available which enabled the expansion of the building. The new building will be built to the highest bushfire performance standard, that is, BAL40 and monies raised will enabled us to install a solar array. During the bushfires the medical centre became a pop up hospital with some 150 patients in the first day and 300 in the days following. Dr April Armstrong one of our "finds" through Dr Search was the locum on duty and is highly regarded for her Doctoring skills and outstanding logistical skills. Dr Sara Renwick Lau and Dr April were a formidable team in the aftermath of the fires. They were supported by many volunteers arranged by Dr April through her organisation Business For Doctors, (BFD)
While we're talking about most needed money, please note that donations over $2.00 are tax deductible.
Donations may be made directly into CHIRF's medical account at the Bendigo Bank;
BSB 633 000 Account No 159 562 776