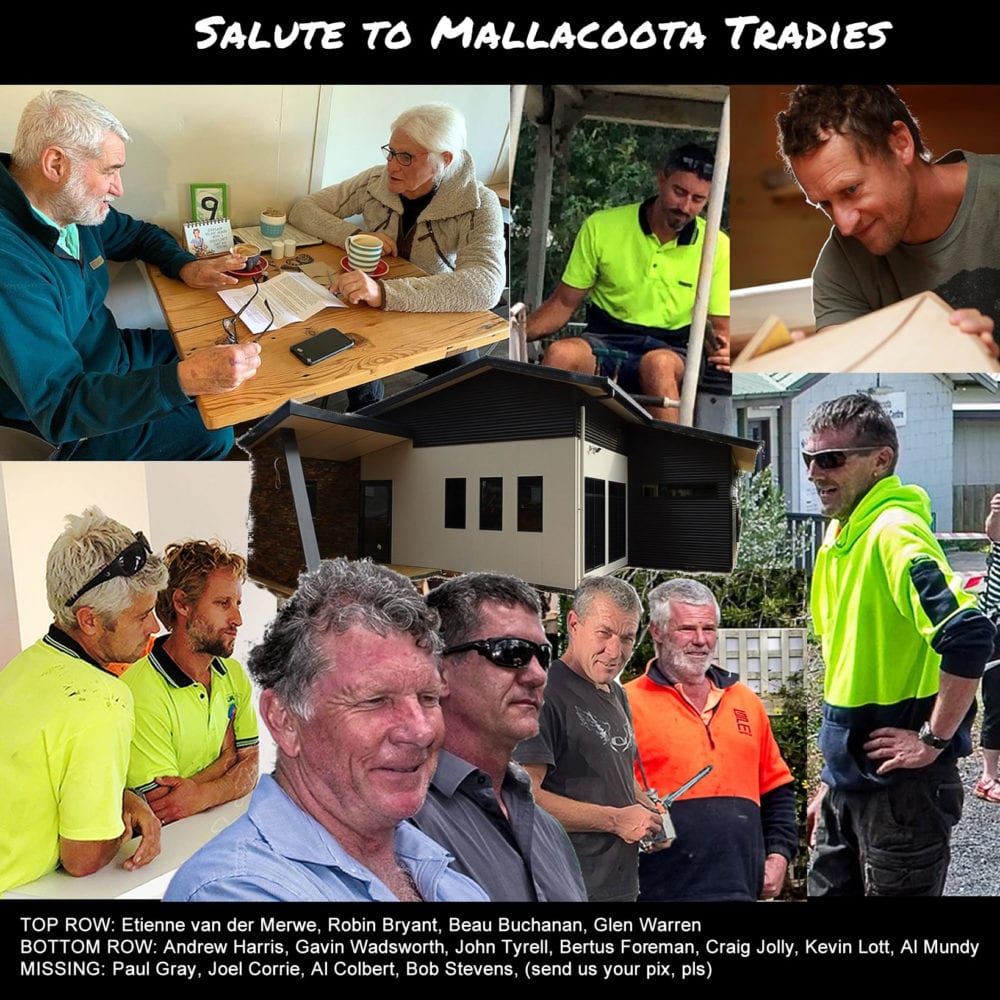 25 June 2019: After months of digging, plastering, blasting, cementing, and much tears and relief, Mallacoota Inlet Aged Care Inc (MIAC) has finally received its Occupancy Permit For Building Permit number: CBS-L 57086/20182468/0.
"It was the sweetest dividend from the MIAC/CHIRF consortium, that commenced back in 2016," CHIRF president, Robin Bryant, said.
Relaxing with a coffee, MIAC president, Etienne van der Merwe and Robin Bryant, discussed plans for stage 2, the aged care based nursing facility, and getting more benefits from the MIAC-CHIRF joint Co-operation Agreement.
Etienne explained that MIAC is the owner of the property. CHIRF had negotiated a long term lease, making the property self-sustaining with a positive cash flow, as well as overseeing the complex project on behalf of both organisations.  
"Congratulations to all involved in this wonderful new facility. We all should be very proud to be associated with it," Etienne said.
"The community and surrounding area will benefit greatly from this new lighter brighter modern space that can be navigated internally with ease – and I'm sure the staff will appreciate working in this excellent purpose built modern facility."
Robin Bryant added that while medical and allied health staff will begin operating from this great facility from 1 July 2019, an official opening will be notified shortly.
In addition to the voluntary project management efforts of Robin Bryant to deliver the project, Etienne thanked Bertus Foreman, General Manager of Healthcare Projects Australia, and John Tyrell of Southern Cross Developers for making the community and medical facility happen with few tears and as much laughter as possible.
John Tyrell wrote to MIAC and CHIRF with the following accolade:
"I would especially like to acknowledge and thank the local tradespeople and in particular local project manager Andrew Harris, and builders Glenn Warren and Gavin Huphauf, who worked tirelessly with us to build this new facility with pride and to a very high standard. Their names and contact details I have included below."
"If anyone is looking for an honest hard working trades person that takes pride in their work with reasonable rates then look no further than this honour roll of local tradesmen below.
"I'm sure I have accidentally left a couple of the tradies out. For historical purposes, we would like to list everyone that contributed, " John said. "So please send any names we may have missed to Linda Bruce, ask@helpcentre.com.au or text to 0409 580 100 and we will adjust on the Web site".